The Boat Grotto

Marine Service Center

7111 El Cajon Blvd.

San Diego, CA  92115

Tel. 619-840-1977

Fax. 619-462-8813


Performance and Durability

All Crusader inboards are based on GM's famous Vortec engine blocks and feature the latest in multi-port fuel injection technology.

Electronic fuel injection, combined with microprocessor-based engine management, provides significant performance benefits. The EFI engine is more responsive, with smoother acceleration and excellent turnkey starts. Reduced fuel consumption and improved emission control is due to the precision of the engine control management system (ECM).But the benefits of EFI don't end with performance: MEFI-4 engines are more durable and reliable.

The Engine Knock Control Sensor detects engine knock and virtually eliminates it by automatically changing the spark timing and fuel delivery. Over-speed protection automatically limits engine RPM if there is a danger of over-revving due to prop failure or cavitation.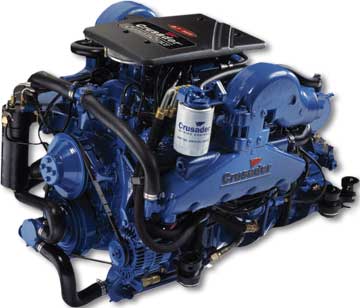 The Speed Reduction Control reduces engine speed and beeps a warning if the engine overheats, has a low oil level or low oil pressure. For altitude compensation, the ECM system senses air density and modifies fuel and spark accordingly. And the self-diagnostic capabilities allow faster, more accurate maintenance on those rare occasions when the EFI system needs servicing.

Crusader chooses GM's MEFI-4 system because, like all of the components we use, it's state-of-the-art.

The Cooling System

Engine durability and longevity are directly impacted by the quality of the cooling system. Crusader uses a modular stainless steel water pump and a full freshwater system to cool both the engine block and the manifolds. Our larger diameter impeller, which is easily serviced, allows for more coolant flow.

The result is a highly durable system that guarantees optimal cooling for long life.

Contact The Boat Grotto in San Diego for all of your Crusader repair, service, parts and installation needs. We are experts when it comes to Crusaders !