The Boat Grotto

Marine Service Center

7111 El Cajon Blvd.

San Diego, CA  92115

Tel. 619-840-1977

Fax. 619-462-8813




Westerbeke Generators

Own a gas or diesel Westerbeke generator and need service or repair ? Call The Boat Grotto today. Our staff have the know how on how to service and repair  your Westerbeke generator.

Since the Company began, Westerbeke has designed and built diesel engines and generators for a wide variety of uses. As early as 1938, Westerbeke was one of the first companies to introduce the Detroit Diesel 6-71 into marine use. In 1959, the Company began to marinize small diesel engine blocks from Perkins. This created the market for small marine diesels primarily for sailboat auxiliary power. The same engines were also used for marine diesel generators. In the 1980's the Company revolutionized the marine diesel market by introducing a line of quiet, compact, lightweight dependable generators that were the smallest available anywhere. Presently, the Company marinizes diesel and gasoline engines from several leading manufacturers. Westerbeke engines range from 12 to 170 horsepower, and Westerbeke generators range from 3.8 to 95 kilowatts.  Westerbeke also manufactures Universal diesel engines from 20 to 42 horsepower, and Rotary Aire marine climate control systems - 10,000 and 17,000 BTU self-contained.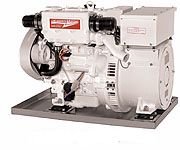 Gasoline and Diesel Generator Repair Service

Parts In Stock Locally and Available For Immediate Installation and Replacement

Sound Covers Available - Order Yours Today !

Call The Boat Grotto | San Diego For All Of Your Westerbeke and Universal Engine & Generator Needs

Specializing In Marine Applications, Repairs, Service and Installation

" Have Questions About Your Generator ? Call Us Now "

We Are Here To Help !